TEMPORARILY OUT OF STOCK
Kee-Port Barn Camera Systems
Our barn camera system provides you with the capability to visually monitor your animals on your TV/Monitor from the comforts of your home and on your smartphone from anywhere in the world.

Infrared LED Weather-proof Color Day/Night Camera

- 1/3" Sony CCD image pickup device - 36 Infrared LEDS
- Color - weather-proof
- Switches to black and white in darkness
- 3.6 mm board lens
- 600 lines resolution
- 0 Lux (LED on)
- Extremely clear - crisp pictureV
---
Microphone - Sound pick up device

- Provides extremely clear audio

---
Wireless audio/video Transmitter and Receiver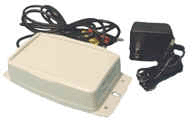 - 2.4Ghz transmitter - rated @ 1000 feet line of site
- Transmitter is weather-proof - for mounting on outside of the barn, thtereby
reducing the number of barriers the signal must penetrate
- 8 foot video/audio/power lead on transmitter:



- 2.4 Ghz receiver receives the audio/video transmission in you home from the transmitter on the barn.
---
Plug and Play DVR

Our plug and play DVR uses cloud technology to allow you to view your barn camera on your Android or Iphone device from anywhere in the world. Setup is simple. There is no need for technical port forwarding or IP addressing. The phone app connects to the DVR via the ID (serial number) of the DVR.
---
Video/Audio/Power Cable
This cable is used to connect cameras, the wireless transmitter and quad processor. It provides a power
circuit, audio circuit and a video circuit. The power circuit is configured with standard 12/24V DC male and female connectors. The video circuit has BNC connectors and the audio is configured with RCA male connectors at both ends.
---
Warranty
Two years, 100% parts and labor
TEMPORARILY OUT OF STOCK
Prices - Online purchasing

Single camera wireless system - Includes:
- 1 IR LED Weatherproof Color Day/Night Camera
- 1 Microphone
- Weatherproof 2.4Ghz Transmitter
- 33 feet of video/audio/power cable to connect camera to
Transmitter
- 2.4Ghz Receiver
- Plug and Play DVR
- Cable to connect receiver to DVR
- Cable to connect DVR to TV
- 50 foot ethernet cable to connect DVR to wireless router
- Power adapters for all components
You can add up to 3 additional cameras to this system for a total of 4.
To add additional cameras you will need the color quad processor. You can connect up to 4 cameras to the quad processor, and the quad processor connects to the transmitter.
The quad processors allows you to display 1, 2 or 4 cameras simultaneously or switch from camera to camera from 1 to 99 second intervals.
To add cameras to this system select the following- Each camera comes with a 65 foot power/audio/video cable.
f you want to increase the length of the video/audio/power cable from the cameras to the quad, or the quad to the transmitter , select the following:
(Indicate in shopping cart the number of cables to have the length increased)
---
Kee-Port, Inc. (Since 1987)
Arlington, WA - USA - Phone: (425)345-1556 - Fax: (360)653-7928
©Kee-Port, Inc.1998-2013